Research Magnetic Resonance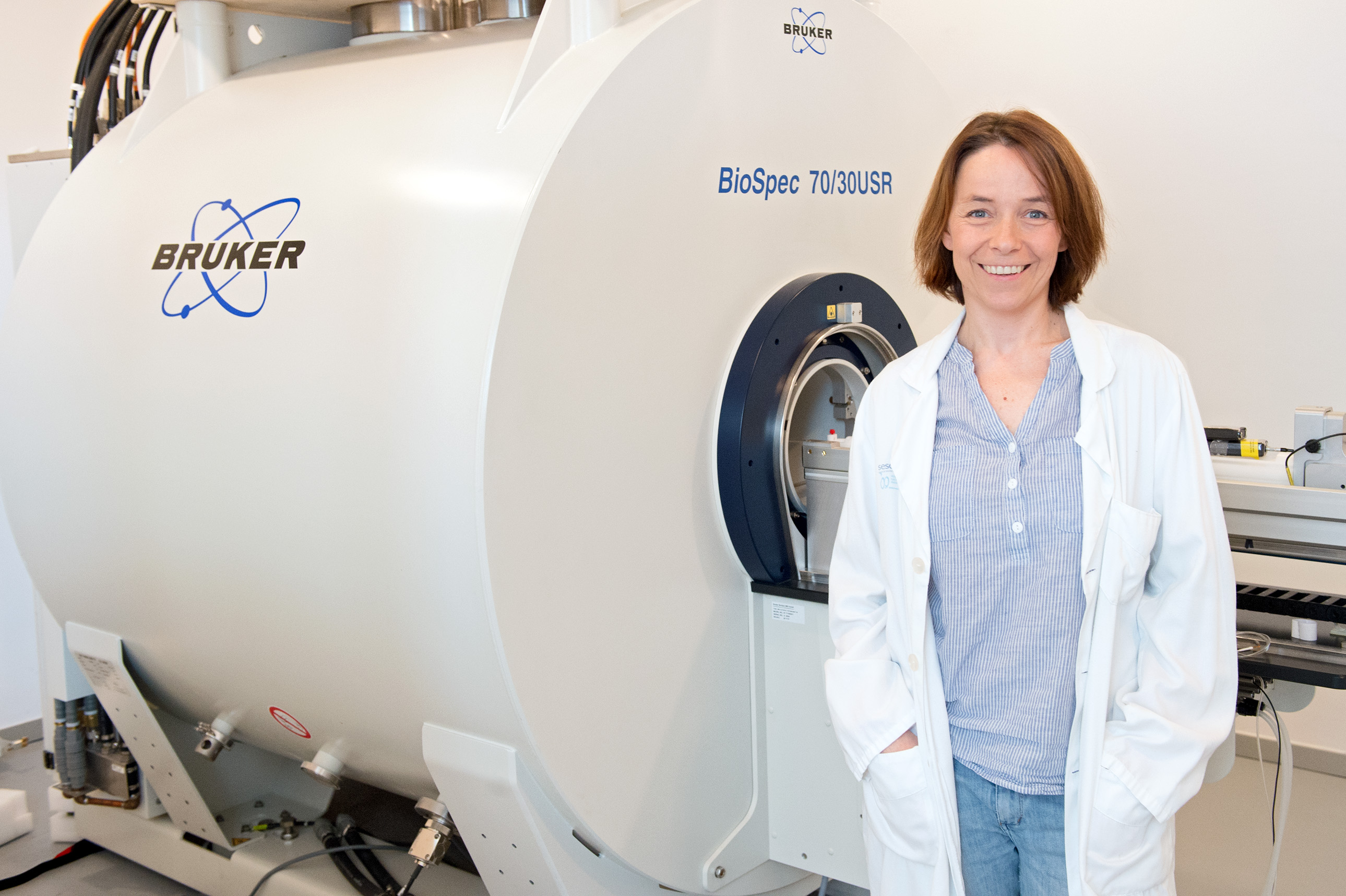 Research Magnetic Resonance
Person in charge: Dra. Marina Benito
E-mail: mbenitov@sescam.jccm.es
Magnetic Resonance Imaging is a noninvasive technique that allows you to obtain images using the intrinsic contrast of the proton (1H) excitation within a static magnetic field. It has a number of advantages over others: (1) The main one is that it does not use ionizing radiation, so it is a non-invasive technique; (2) slices or planes can be acquired in any direction; (3) very good resolution images are obtained. However, one of the main drawbacks is that long acquisition times are required.
The Research Magnetic Resonance Laboratory of the Hospital Nacional de Parapléjicos is destined for studies in both rat and mouse mainly, although studies in small cats and / or rabbits could also be carried out.
The availability of the mouse brain cryoprobe gives this laboratory a significant advantage over other equipment nationwide since there are no many facilities with similar characteristics.
The laboratory offers service to the different research groups of the Hospital as well as external groups and private companies.
Selected publications
- Navarro-Gonzalez C, Carceller H, Benito Vicente M, Serra I, Navarrete M, Domínguez-Canterla Y, Rodríguez-Prieto Á, González-Manteiga A, Fazzari P. Nrg1 haploinsufficiency alters inhibitory cortical circuits. Neurobiol Dis. 2021 Sep;157:105442. doi: 10.1016/j.nbd.2021.105442. Epub 2021 Jul 8. PMID: 34246770.
DOI: 10.1016/j.nbd.2021.105442
- Domínguez-Bajo A, González-Mayorga A, Guerrero CR, Palomares FJ, García R, López-Dolado E, Serrano MC. Myelinated axons and functional blood vessels populate mechanically compliant rGO foams in chronic cervical hemisected rats. Biomaterials. 2019 Feb;192:461-474. doi: 10.1016/j.biomaterials.2018.11.024. Epub 2018 Nov 19. PMID: 30502723.
- Villa-Valverde P, Rodríguez I, Padró D, Benito M, Garrido-Salmon CE, Ruiz-Cabello J. A dual 1H/19F birdcagecoilforsmallanimals at 7 T MRI. MAGMA. 2019 Feb;32(1):79-87. doi: 10.1007/s10334-018-00733-z. Epub 2019 Feb 16. PMID: 30778714.
- Pellico J, Fernández-Barahona I, Benito M, Gaitán-Simón Á, Gutiérrez L, Ruiz-Cabello J, Herranz F. Unambiguousdetection of atherosclerosisusingbioorthogonalnanomaterials. Nanomedicine. 2019 Apr;17:26-35. doi: 10.1016/j.nano.2018.12.015. Epub 2019 Jan 14. PMID: 30654185.
- Aguilera, Y.; Mellado-Damas, N.; Olmedo-Moreno, L.; López, V.; Panadero-Morón, C.; Benito, M.; Guerrero-Cázares, H.; Márquez-Vega, C.; Martín-Montalvo, A.; Capilla-González, V. Preclinical Safety Evaluation of IntranasallyDelivered Human MesenchymalStemCells in JuvenileMice. Cancers 2021, 13,1169. https://doi.org/10.3390/cancers13051169.
Equipment
Bruker Biospec 70/30 with three gradient systems: BGA 6S (1000mT/m), BGA 12S HP (440mT/m) y BGA 20S HP (200mT/m)
Mouse brain MRI Cryoprobe
Volume coils for rats, mice and small cats/rabbits
Rat brain phase arraycoil
Cardiac and Spinal Cord MRI phase array coil
1H/31P surface coil
Two Linux workstation for acquiring and processing with Paravision 6.0.1
Cardiac and respiratory monitoring system
Water heating system
Gas anaesthesia system
In addition, it has an animal room attached to the laboratory
Services offered
Anatomic and morphologic MRI
Diffusion MRI and Tractography
Angiography MRI
Localized spectroscopy 1H
Heteronuclear spectroscopy 1H/31P
Cardiac MRI
Biological samples MRI
Contrast agents administration for visualization and characterization via MRI
Image and Spectra processing
Image Gallery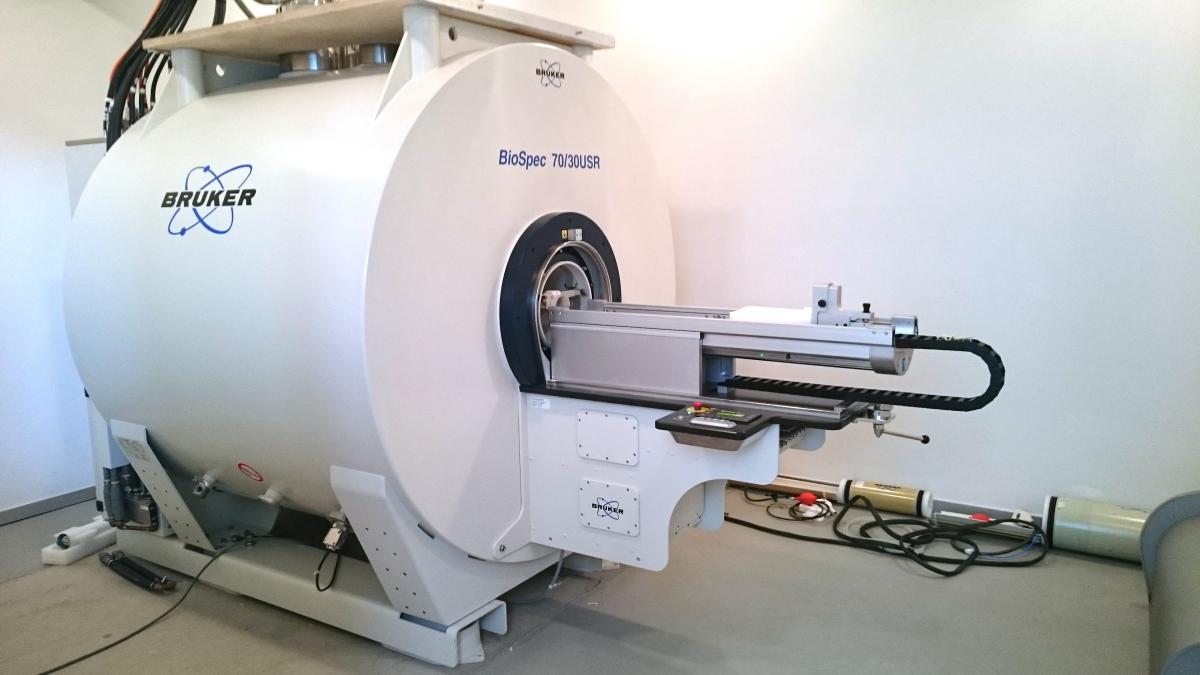 - Bookings will be made through email and with a minimum of 2 weeks in advance.
- Send the request form completed. REQUEST
- Provide the necessary documentation for the animal´s admission.
Contact person and bookings
Dra. Marina Benito Vicente
Research MR laboratory
Edf. Investigación Planta -1
Hospital Nacional de Parapléjicos
Finca la Peraleda s/n
45071 Toledo
España
e-mail: mbenitov@sescam.jccm.es
Tfno: (+34) 925 247 774