Membrane Biology and Axonal Repair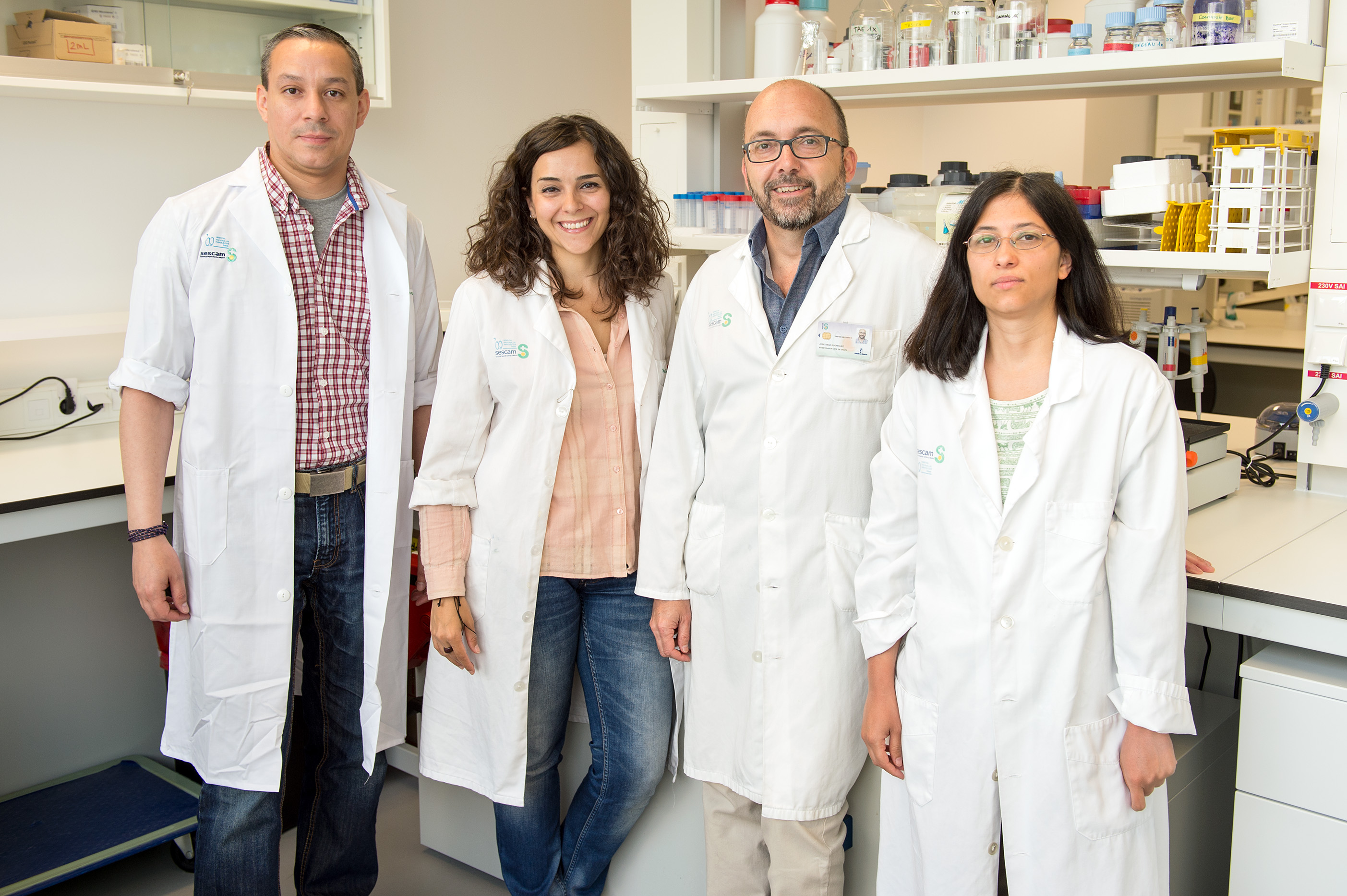 Membrane Biology and Axonal Repair
Principal investigator: José Abad Rodríguez, Ph.D.
E-mail: jabadr@sescam.jccm.es
Our laboratory investigates the role that the plasma membrane organization plays in the differentiation of neurons and glia. Thus, we study lipids (cholesterol, glycosfingolipids-GSL) and glycoproteins involved in the formation of the membrane reception and signaling microdomains, known as membrane rafts. Local modulation of these molecules is central to processes like axonal polarization, growth and myelinization, hence we are particularly focused on the activity of membrane-associated sialidase Neu3 and of the galectin family of carbohidrate-bounding proteins, due to their capacity to modify the membrane locally by regulating GSLs and other glyco-conjugates.
To reach these objectives we utilize a combination of in vitro rodent models (based on primary cultures of neurons, astrocites, oligodendrocytes and microglia) and microscopy (conventional, confocal and time-lapse) for cellular analysis. In addition to standard biochemical (immunoblot, ELISA, etc) and molecular (cloning, PCR, etc) techniques, we are specialized in the membrane and lipids analysis in living cultured cells (co-patching, micro-CALI) and tissues (membrane fractionation, rafts purification, extraction of lipids/glycolipids and thin layer chromatography). Recent findings, that Neu3 and some galactins may induce regeneration of injured axons, have led us to employ experimental spinal cord injury models as a way of evaluating in vivo their potential in the treatment of traumatic spinal cord injury.
Selected publications
- Abad-Rodríguez J, Díez-Revuelta N. Axon glycoprotein routing in nerve polarity, function, and repair. TIBS. 2015; 40(7):385-396.
- Kappagantula S, Andrews MR, Cheah M, Abad-Rodríguez J, Dotti CG, Fawcett JW. Neu-3 Sialidase-mediated ganglioside conversion is necessary for axon regeneration and is blocked in CNS axons. J. Neurosci. 2014, 34(7):2477-2492.
- Velasco S, Díez-Revuelta N, Hernández-Iglesias T, Kaltner H, André S, Gabius HJ, Abad-Rodríguez J. Neuronal Galectin-4 is required for axon growth and for the organization of axonal membrane L1 delivery and clustering. J. Neurochem. 2013, 125(1):49-62.
- Díez-Revuelta N, Velasco S, André S, Kübler D, Gabius HJ, Abad-Rodríguez J. Phosphorylation of adhesion/growth-regulatory human Galectin-3 leads to the induction of axonal branching by local membrane L1/ERM redistribution. J Cell Sci. 2010; 123: 671-81.
- Santos Da Silva J, Hasegawa T, Miyagi T, Dotti CG, Abad Rodríguez J. Asymmetric membrane ganglioside sialidase activity specifies axonal fate. Nature Neurosci. 2005; 8(5): 606-15.
Personnel
José Abad Rodríguez: Lab chief; PhD. in Biology and Biochemistry, Universidad Autónoma de Madrid (UAM).
To view complete profesional profile please visit: http://www.linkedin.com/pub/jose-abad-rodriguez/1b/137/5ab
Alonso Higuero Romero: Postdoctoral researcher, PhD in Biochemistry, Molecular Biology and Chemistry, Universidad Autónoma de Madrid (UAM).
Natalia Díez Revuelta: Postdoctoral researcher, PhD. in Biochemistry and Molecular Biology. Universidad Complutense de Madrid (UCM).
To view complete profesional profile please visit: http://www.linkedin.com/pub/natalia-d%C3%ADez-revuelta/35/10a/128
Eider Goiriena Furoria: Predoctoral researcher; BSc. in Biology, Universidad Complutense de Madrid (UCM).
María Peñas de la Iglesia: Lab technician.
Research lines
- Glicosfingolipids in axonal growth
Our research has established that plasma membrane gangliozides-specific sialidase (PMGS/Neu3) modulates axonal growth and that its activity, normally upregulated after peripheral nerve lesions, is necessary for the regeneration. However, this increase in the activity of Neu3 does not happen in the central nervous system (CNS) even though, we confirmed that its overexpression promotes the CNS neurons regeneration in vitro. In line with these findings, we propose to upregulate the PMGS/Neu3 in lesioned spinal cord tissue using three different approaches: gene therapy (employing lentiviral vectors); cellular therapy (employing olfactory ensheeting glia and modified neuronal stem cells) and by delivering it in the form of nanoparticles of biocompaible polimers.
- Roles of galectins in neuronal differentiation and mielinization
Using recombinant sugar-bound proteins (galectins) we have developped a battery of laboratory tests for studying involvement of carbohidrates in axonal growth, guidance and regeneration as well as, their role in mielination. As a result, we have demonstrated that the fosforilated form of the galactin-3 regulates axonal branching while the galectin-4 determines axonal transport of growth- associated glycoproteins, like the NCAM-L1. Since these and other findings along this research line helped us identify the galectins as a potentially useful tool in the CNS regeneration, we are presently developing a technology for their application either through funcionalization of biomaterials and/or their controled expression in transplantable cells, such as neural stem cells.
Ongoing projects
Induction of membrane neuraminidase Neu3 at SCI site to stimulate active axon regeneration and functional recovery.
PI: José Abad Rodriguez. Funded by the International Foundation for Research in Paraplegia (IRP; Ref: P135; 2013-2015).