Molecular neurology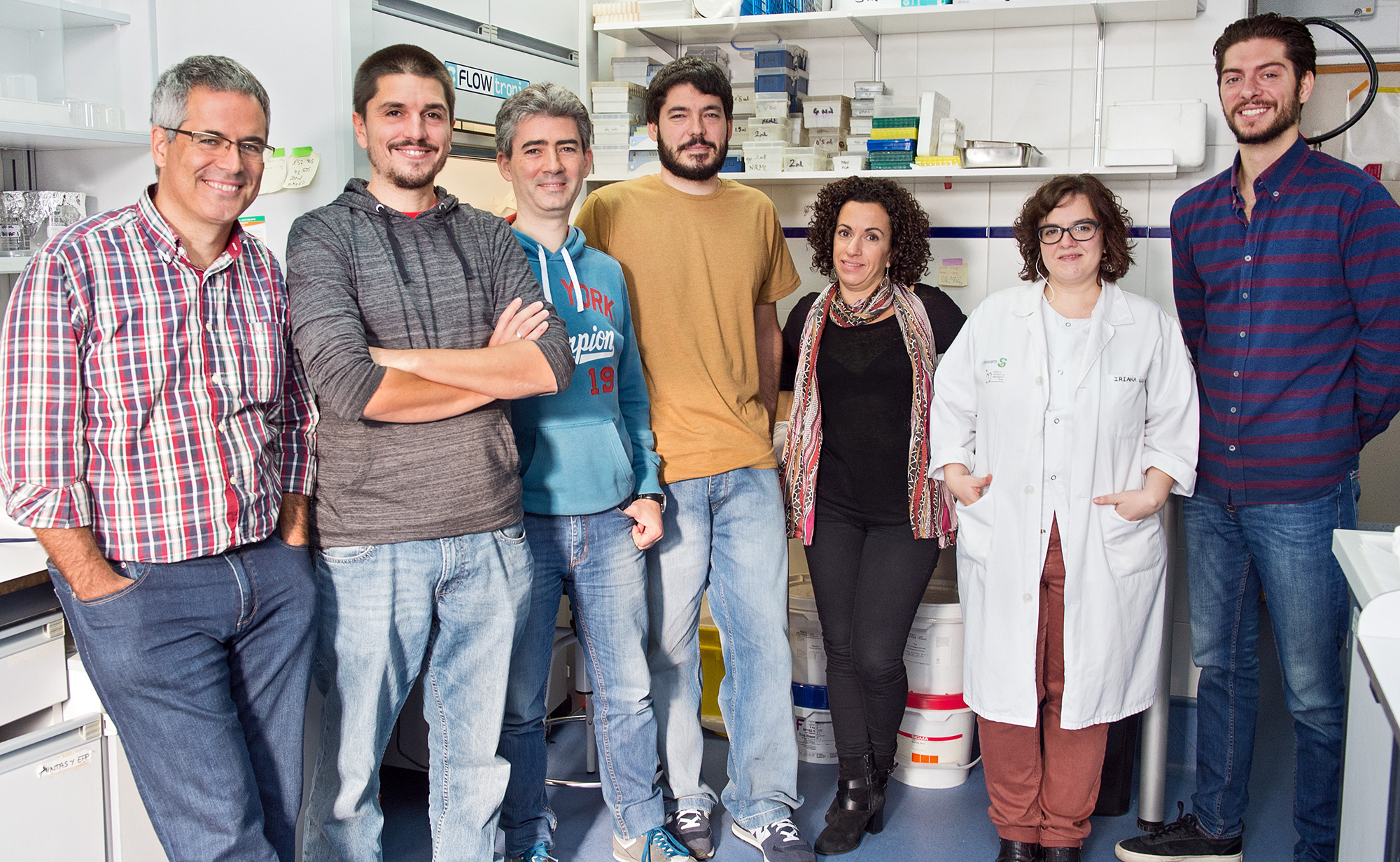 Molecular neurology
Principal investigator: F. Javier Rodriguez
E-mail: fjrodriguez@sescam.jccm.es
The Group of Molecular Neurology (GMN) was created in 2005 with the objective of identifying new therapeutic targets and developing combined therapies for inducing neuroprotection and promoting neural repair. Such broad experimental approach to the neural repair challenge is tackled through multidisciplinary research ranging from very molecular aspects to the correlation in motor and sensory functional outcome, electrophysiology and histology in clinically relevant rodent models of injury or disease of the nervous system.
Our major research finding has been the first description of a wide expression of the Wnt family of proteins in the adult spinal cord and its involvement in the response to traumatic injury and neurodegeneration. Nowadays, we are validating therapeutic targets in human samples and assessing potential therapies based in the modulation of this family of proteins in animal models. Regarding cell therapy, we have contributed to the description of a novel source or autologous stem cells located in the leptomeninges of the adult spinal cord with potential to generate new neurons and oligodendrocytes, as well as produced the efficacy proof of concept of a novel source of human adipose mesenchymal cell transplants to treat acute spinal cord injuries (https://clinicaltrials.gov/ct2/show/NCT02917291). In this way, we are also interested on the development of new therapies based on drugs currently used in the clinic, such as leptin and ibuprofen. Finally, our group participates in a European Consortium for the development of prostheses to promote the regeneration of lesioned peripheral nerves, and collaborates with expert groups in biomaterials for the development of tools that will facilitate an administration adapted to each type of pathology of the pharmacological, molecular or cellular treatments found as effective. The ultimate goal is to determine the molecular and cellular mechanisms underlying neural damage and develop new reparative therapies with potential for clinical translation.
Presently, the GMN is receiving funding from National and International public agencies, has one patent activeand a total of 20 research articles already accepted, submitted or in preparation along 2017.
Selected publications
Decimo I, Bifari F, Rodriguez FJ, Malpeli G, Dolci S, Lavarini V, Pretto S, Vasquez S, Sciancalepore M, Montalbano A, Berton V, Krampera M, Fumagalli G. Nestin-and DCX-Positive Cells Reside in Adult Spinal Cord Meninges and Participate to Injury-Induced Parenchymal Reaction. Stem Cells 2011; 29(12): 2062-76.
Fernandez-Martos CM, Gonzalez-Fernandez C,Gonzalez P, Maqueda A, Arenas A, Rodriguez FJ. Differential expression of Wnts after Spinal Cord Contusion Injury in adult rats. PLoS One 2011; 6(11): e27000.
Fernandez-Martos CM, Gonzalez P, Rodriguez FJ. Acute Leptin Treatment Enhances Functional Recovery after Spinal Cord Injury. PLoS One. 2012; 7(4): e35594.
Gonzalez P, Fernandez-Martos CM, Gonzalez-Fernandez C, Arenas E, Rodriguez FJ. Spatio-Temporal Expression Pattern of Frizzled Receptors after Contusive Spinal Cord Injury in Adult Rats. PLoS One 2012; 7(12): e50793.
Gonzalez P, Fernandez-Martos CM, Rodriguez FJ.The Ryk Receptor Is Expressed in Glial and Fibronectin-Expressing Cells after Spinal Cord Injury. Journal of Neurotrauma 2013, 30(10): 806-17.
González-Fernández C, Fernández-Martos CM, Arenas E, Rodríguez FJ. Wnts are expressed in the spinal cord of adult mice and are differentially induced after injury. J Neurotrauma 2014, 31(6): 565-81.
González-Fernández C, Mancuso R, Del Valle J, Navarro X, Rodríguez FJ. Wnt Signaling Alteration in the Spinal Cord of Amyotrophic Lateral Sclerosis Transgenic Mice: Special Focus on Frizzled-5 Cellular Expression Pattern. PLoS One. 2016, 11(5): e0155867.
Gonzalez P, Rodríguez FJ. Analysis of the expression of the Wnt family of proteins and its modulatory role on cytokine expression in non activated and activated astroglial cells.Neurosci Res. 2016, pii: S0168-0102(16) 30113-4.
Gonzalez-Fernandez C, Arevalo-Martin A, Paniagua-Torija B, Ferrer I, Rodriguez FJ*, Daniel Garcia-Ovejero*. Wnts are expressed in the ependymal region of the adult spinal cord. * Co-corresponding authors. MolNeurobiol 2016 Oct 8 (Epub ahead of print).
Berton V, Pino A, Malpeli G, Pari F, Dolci S, Rodriguez FJ, Fumagalli G, Bifari F*, Decimo* I. High yields of adult oligodendrocyte lineage cells obtained from meningeal biopsy. Stem Cell Research and Therapy (Submitted Manuscript).
Personnel
- F. Javier Rodríguez (PhD in Biological Sciences; Universita tAutònoma de Barcelona 1999).
- Pau H. González (PhD in Biological Sciences; Universitat Autònoma de Barcelona 2009).
- Alfredo Maqueda Fernández (PhD in Biological Sciences; Universidad Autónoma de Madrid 2007).
- Carlos González-Fernández (PhD in Biochemistry, Molecular Biology and Biomedicine; Universidad Complutense de Madrid 2015).
- Francisco González Pérez (PhD in Neurosciences; Universitat Autònoma de Barcelona 2016).
- Virginia Pérez Jort (Lab Manager; BSc. In Biology).
- Sandra Vázquez Pérez (Lab Technician).
External collaborations
Dr. Xavier Navarro and  Dr. Rubén López-Valés. Group of Neuroplasticity and Regeneration. Department of Cell Biology, Physiology and Immunology. Universitat Autònoma de Barcelona (UAB, España).
Dr. Ernest Arenas. Molecular Neurobiology Unit. Department of Medical Biochemistry and Biophysics.Karolinska Institute (Sweden).
Dr. Guido Fumagalli, Dr. Ilaria Decimo y Dr. Franceso Bifari. Department of Clinical and Experimental Medicine and Department of Medicine y Public Health. University of Verona (Italy).
HISTOCELL. Company specialized in Tissue Engineering and Cell Therapies (Bilbao, Spain).
Unit of Advanced Biotherapies from Group Ferrer (Barcelona, Spain).
Consortium NEURIMP: IK4-Tekniker and HISTOCELL (Spain); ContiPro Pharma (Czech Republic), Vornia (Ireland), University of Sheffield and University of Westminster (UK), Qserve Consultancy (Netherlands).
Dr. Daniel García-Ovejero and Dr. Ángel Arévalo. Group of Neuroinflammation. Hospital Nacional de Parapléjicos (Toledo, Spain).
Dra. Bárbara Meléndez, Dra. Yolanda Campos and Dra. Manuela Mollejo. Unit of Pathological Anatomy. Hospital Virgen de la Salud (Toledo, Spain).
Dr. F. Javier Arias and Dra. A. Girotti. Group BIOFORGE. Universidad de Valladolid (Spain).
Dr. Isidre Ferrer. Institute of Neuropathology, Unit of Pathological Anatomy, IDIBELL-Hospital Universitari de Bellvitge, Universitat de Barcelona (Spain).
Dr. Michael Norenberg. The University of Miami Miller School of Medicine (EEUU).
Research lines
Pharmacological therapies: Assessment in "in vitro" and animal models of Neural Damage of drugs currently in use in clinic, such as minocycline, lithium, ibuprofen or leptin, whose single or combined administration will promote neuroprotection, and axonal/tissue regeneration.
 Cell therapies: Development of new protocols to isolate, expand and instruct cell transplants obtained from autologous and easy access tissues, with capacity to promote neuroprotection, positive immunomodulation, axonal regeneration and/or cell replacement (neurons and oligodendrocytes).
Seek and identification of novel therapeutic targets: Characterization of new key factors on neural damage by means of quantitative PCR, proteomics and immunohistochemistry. In this aim our main research interests are focused on the Wnt family of proteins.
Development of new biomaterials nanostructured and functionalized to promote neuroprotection, axonal regeneration and tissue repair.
Ongoing projects
- The Wnt family of proteins in the inflammatory and glial response after spinal cord injury: A novel therapeutic target? (FIS Project: 2013-2017)
Wnts are a large family of glycoproteins closely related with multiple key mechanisms during CNS development. Experimental evidences suggest a role of this family of proteins in several CNS pathologies, including spinal cord injury. Our group was the first to describe that most of members of the Wnt family of proteins are expressed in the adult spinal cord of rodents and that a traumatic injury induces a dramatic change in its molecular and cell pattern of expression, which includes the induction of Wnt receptors in astrocytes, fibroblasts, microglia/macrophages and NG2 precursors at the injury core, suggesting their involvement in the glial and inflammatory response. Ongoing studies intend to characterize the specific roles of each Wnt receptor in the pathophysiological mechanisms underlying mainly the glial and inflammatory response induced by a spinal cord injury, but also neuroprotection, neurogenesis, angiogenesis and axonal regeneration.
- Biomaterials nanostructured to promote guided axonal growth (Call FP7-NMP-2013-SME-7: 2014-2017)
One of the main limiting factors for axonal regeneration after spinal cord injury is the formation of a cyst surrounded by a glial scar. As a result, the repair of chronic injuries implies, besides the supply of axonal regeneration promoting factors, the generation of a physical support inside the cyst. The NEURIMP project intends to develop novel biomaterials with structural plasticity which, in combination with micro-manufacturing technologies, will allow for the generation of structures composed by aligned microchannels or fibers capable to promote guided axonal growth. In a first stage, the project has been focused on the development of neural prostheses for peripheral nerve repair, which will allow to develop the technology in a pathology with a higher prevalence than SCI and endogenous capacity of regeneration, with as final aim the generation of prostheses able to replace autografts for the repair of nerve injuries with a long interneural gap. In a second stage, the project intends to functionalize these prostheses by implementing biological strategies, as those developed in the other research lines of the group, as well as their translation to other pathologies with biological limitations to promote axonal regeneration as the spinal cord injury. This project is being developed as part of a consortium that integrates six countries of the EU and includes two Research Centers (Tekniker and Hospital Nacional de Parapléjicos), three Companies (Histocell, Vornia Biomaterials and Contipro), two Universities (Sheffield and Westminster) and one Consulting Agency (QServe).