Interfaces for Neural Repair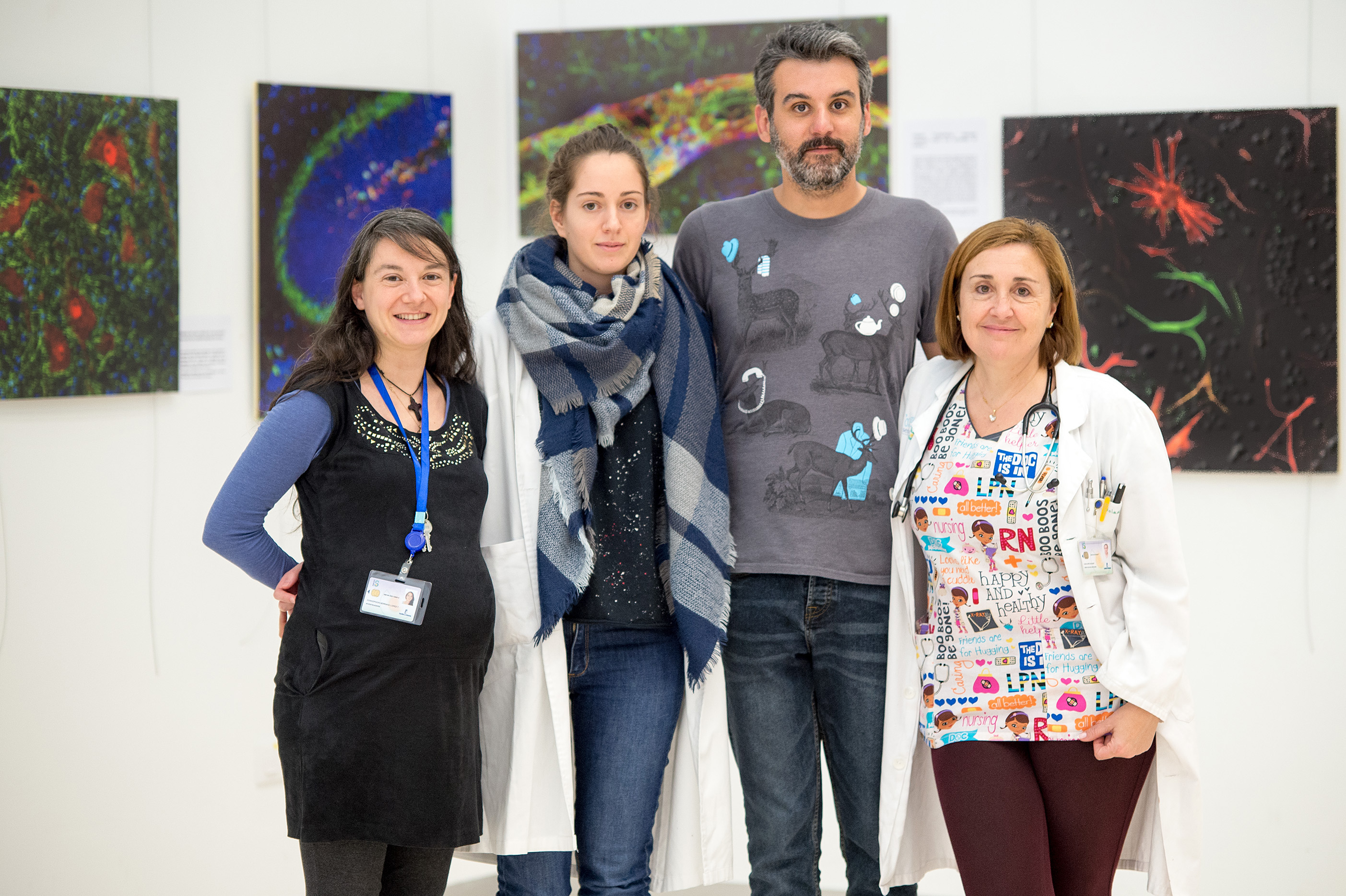 Interfaces for Neural Repair
Principal investigator: Elisa López Dolado, MD, PhD
E-mail: elopez@sescam.jccm.es
Co-principal investigator: María Concepción Serrano López-Terradas, PhD
E-mail: mslopezterradas@sescam.jccm.es
TheLaboratory of Interfaces for Neural Repair (LINER) has recently born as an independent research laboratory in the Hospital Nacional de Parapléjicosin January, 2017. LINER research focuses on the design and development of new biomaterials useful to serve as interfaces with the injured central neural tissue and able to represent novel therapeutic alternatives for the treatment of spinal cord injury (SCI). Among the materials currently under investigation, both graphene oxide due to its extraordinary physic-chemical properties and natural polymers (proteins and carbohydrates) due to their high biocompatibility deserve special attention. Work in the laboratory includes: (1) Design, fabrication, characterization and functionalization of biomaterials, (2) Biocompatibility assessment by using in vitromodels with neural cell cultures and (3) In vivo studies in experimental models of spinal cord injury in rats. The multidisciplinary expertise of the research team allows the creation of an enriched environment in which knowledge from basic science (Materials Science, Molecular and Cell Biology, Neuroscience, Histology, Pathologic Anatomy) is combined with the understanding of the clinical problem from the daily practice with SCI patients.
Selected publications
López-Dolado E et al. (2016) Immunomodulatory and angiogenic responses induced by graphene oxide scaffolds in chronic spinal hemisected rats. Biomaterials 99: 72-81.
Feito MJ et al. (2016) Effects of immobilized VEGF on endothelial progenitor cells cultured on silicon substituted and nanocrystalline hydroxyapatites. RSC Advances 6: 92586-92595.
Hernández-Balaguera E et al. (2016) Obtaining electrical equivalent circuits of biological tissues using the current interruption method, circuit theory and fractional calculus. RSC Advances 6: 22312-22319.
López-Dolado E et al. (2015) Subacute tissue response to 3D graphene oxide scaffolds implanted in the injured rat spinal cord. Advanced Healthcare Materials 4: 1861-1868. Inside cover invited.
Peláez R et al. (2015) Tailored fringed platforms produced by laser interference for aligned neural cell growth. Macromolecular Bioscience 16: 255-265.
Serrano MC et al. (2014) 3D free-standing porous scaffolds made of graphene oxide as substrates for neural cell growth. Journal of Materials Chemistry B 2: 5698-5706.
Serrano MC et al. (2014) Chondroitin sulphate-based 3D scaffolds containing MWCNTs for nervous tissue repair. Biomaterials 35: 1543-1551.
Serrano MC et al. (2014) Role of polymers in the design of 3D carbon nanotube-based scaffolds for biomedical applications. Progress in Polymer Science 39: 1448-1471.
Portoles MT and Serrano MC. Potentiality of graphene-based materials for neural repair. In: "The new paradigm of graphene-based materials in medicine and environment". Springer, 2016. DOI: 10.1007/978-3-319-45639-3. Book chapter.
López-Dolado E and Herrera López M. Trauma espinal en el niño: manejo inicial, peculiaridades y rehabilitación. En: "Fundamentos de patología neuroquirúrgica para pediatras". 1ª edición. Ed: Ergon, 2016. Book chapter.
López-Dolado E and Alcaraz Rousselet MA. Lesión medular traumática. En: "Manual de Neurología Infantil". 2ª edición. Ed: Panamericana, SBN: 9788498357851, 2014. Book chapter.
Research team
Elisa López Dolado (Principal Investigator; PhD in Medicine, Universidad Autónoma de Madrid, 2012)
María Concepción Serrano López-Terradas (Co-principal Investigator; PhD in Biology, Universidad Complutense de Madrid, 2006)
Francisco Ankor González Mayorga (Lab manager;laboratorytechnician, 2004)
Ana Domínguez Bajo (Predoctoral student; Master In Neuroscience, Universidad Complutense de Madrid, 2016)
Current research lines and active projects
- ByAxon Project: Towards an active bypass for neural reconnection. From 01/01/2017 to 31/12/2020.  Budget: ~450.000 €. Comisión Europea (Call FET-OPEN RIA). One of the main research lines in the laboratory is, in close collaboaration with national and international research institutions of scientific excellence and coordinated by IMDEA-Nanociencia in Madrid, the design and development of a novel prototype based on sensors and electrodes fabricated by last regeneration Nanotechnology techniques and able to reconnect neural circuitries through the injured spinal cord.
- MAT2016-78857-R Project: Design and development of a bioactive 3D biomataerial made of graphene oxide and functionalized for the treatment of injured spinal cord. From30/12/2016 to 29/12/2019. Budget: 121.000 €. Ministerio de Economía, Industria y Competitividad (Plan Nacional, Retos de la Sociedad, Eje A). To follow with the research initiated with the Project CP13/00060 (Miguel Servet I), headed by Dr. Serrano and funded by ISCIII-MINECO-FEDER, we are current and actively working on the design and development of a bioactive 3D biomaterial based on reduced graphene oxide and able to efficiently promote neural repair responses in the injured spinal cord by means of a significant functional recovery.
Most recent and promising research findings
- The research activity carried out by LINER was initiated in January 2014, with the research Project associated to the Miguel Servet I contract of Dr. Serrano and focused on the investigation of graphene-based materials for neural repair in the injured spinal cord. During this period, our laboratory has pioneered the exploration of the tissue responses to the implantation of a 3D porous scaffold exclusively composed of reduced graphene oxide, both at the subacute and early chronic stages. These scaffolds are characterized by a flexible and soft structure, with a porosity of approximately 80% and an average pore size of 150–180 μm in length. Preliminary in vitro studies with embryonic neural progenitor cells have evidenced a high biocompatibility, with the progressive formation of highly connected neural networks composed of both neurons and glial cells (14 days).
- After the implantation of these structures in the rat injured spinal cord (hemisection model at C6), tissue responses in the lesion site is mainly characterized by: 1) Increase of the mechanical stability of the lesion by means of the filling role played by the scaffold and its complete infiltration by cells and extracellular matrix proteins (collagen), thus favoring the sealing of the lesion area without significant formation of fibroglial scars (stabilization); 2) Colonization of the lesion area by macrophage populations, with a reduced number at the chronic state in comparison with the subacute phase and the evident presence of pro-reparative M2 cells (Arginase I+and/or CD163+) in close contact with the scaffold (immunomodulation); 3) Formation of mature new blood vessels (laminin+, RECA-1+ and SMI-71+) infiltrating the entire 3S scaffold structure (angiogenesis) and 4) Detection of axons (neurofilament+andtubulineβIII+) of new formation inside the scaffold, in the proximities of new-formed blood vessels (axonal re-growth).
Currents cientific collaborators
- Prof. María Teresa Portolés, Universidad Complutense de Madrid (Spain).
- Prof. Julio Camarero and Dr. Teresa González, IMDEA-Nanociencia, Madrid (Spain).
- Prof. Laura Ballerini, International School for Advanced Studies Trieste (Italy).
- Prof. Laurence Méchin, Centre National de la RechercheScientifique (France).
- Prof. Paula Marques, Universidade de Aveiro (Portugal).
- Prof. Guillermo Ameer, Northwestern University, Chicago (USA).
- Dr. María del Puerto Morales y Dr. Sabino Veintemillas, Instituto de Ciencia de Materiales de Madrid (Spain).
- Dr. Diego Clemente, Hospital Nacional de Parapléjicos, Toledo (Spain).
- Dr. Agustín Mihi, Instituto de Ciencia de Materiales de Barcelona (Spain).
- Dr. Gil Gonçalves, Instituto de Ciencia de Materiales de Barcelona (Spain).