Proteomics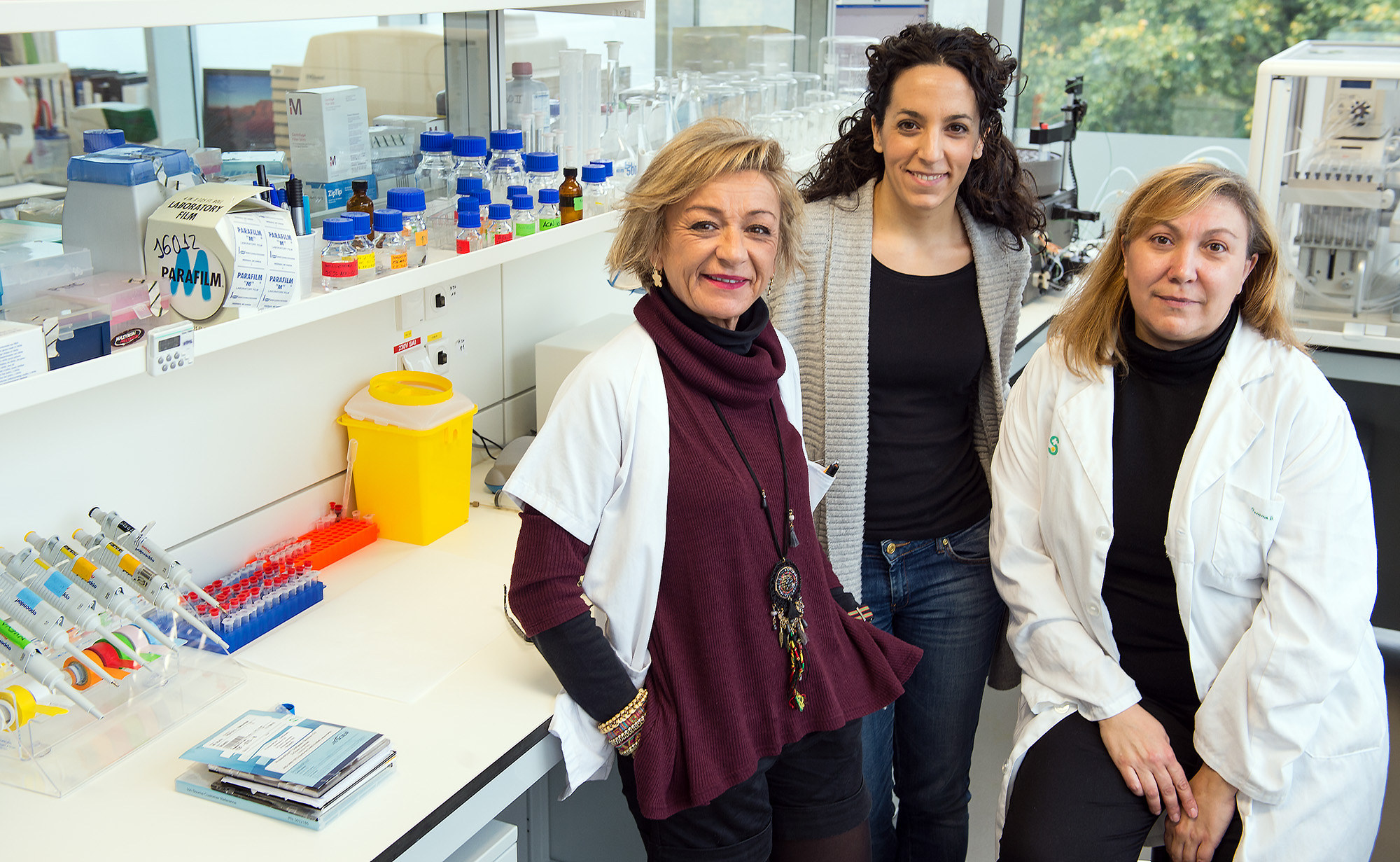 Proteomics
Head of Unit: Gemma Barroso García
E-mail: gbarroso@sescam.jccm.es
Proteomics Unit's mission is to make available to researchers techniques based on protein analysis, focusing on finding appropriate experimental designs and implementation of new technologies in the field of proteomics.
The Unit has the necessary instrumentation to perform separation experiments, quantification, identification and characterization of proteins, as well as for conducting studies of biological and biomedical interest by means of electrophoresis and mass spectrometry. Likewise, proteomics techniques are also valid in clinical research studies.
Since 2008 the facility participates in the continuing education program of the National Hospital of Paraplegics-SESCAM, offering an Introductory Course to Basic Proteomics.
Equipment
Mass Spectrometry
     • 4800 Plus MALDI TOF/TOF (ABSciex).
        Nano-LC (Dionex Ultimate 3000) with micro-collector of fracctions Probot (Dionex).
     • 4000 QTrap: (ABSciex).
        Nano-LC (Eksigent 2D Plus) coupled to 4000 QTrap
Software for Data Analysis
       GPS Explorer™ , ProteinPilot™ (ABSciex). Workstation for database searching using Mascot V 2.5 (MatrixScience)
       MRMPilot (ABSciex) and Skyline for quantitative proteomics.
Electrophoresis and 2D-gels image analysis
Isoelectric Focusing:
      • Ettan IPGphor 3 (GE Healthcare)
      • PROTEAN IEF Cell (BioRad)
Bi/Mono dimensional electrophoresis:
      • Ettan Dalt Six (GE Healthcare)
      • Hoefer SE 600 (GE Healthcare)
      • Mini-PROTEAN 3 Dodeca Cell y Mini-PROTEAN Tetra Cell (BioRad)
      • ImageScanner III (GeHealthcare):
      • Typhoon™ TRIO (GeHealthcare): Fluorescence scanner
      •  DeCyder™ Software for differential analysis DIGE (GE Healthcare).
Gel sample preparation for identification by mass spectrometry:
      • EXQuest Spot Cutter: (BioRad)
      • Ettan Digester: (GE Healthcare)
Analysis and prices
     - 1D Electrophoresis (SDS-PAGE)
     - 2D Electrophoresis (2-DE)
     - 2D-DIGE (Differential proteomics)
     - Molecular mass determination.
     - Ion fragmentation studies.
     - Identification of proteins by MALDI.
     - Identification of proteins by LC-MS/MS.
     - Quantitative analysis:
             SRM/MRM (Selected Reaction Monitoring/Multiple Reaction Monitoring)
Recent publications
Pita-Thomas W, Barroso-García G, Moral V, Hackett AR, Cavalli V, Nieto-Diaz M. Identification of axon growth promoters in the secretome of the deer antler velvet Neuroscience. 2016 Nov 4. pii: S0306-4522(16)30604-2 Citada en PubMed; PMID: 27818162
Sánchez-Sierra M, García-Álvarez I, Fernández-Mayoralas A, Moreno-Lillo S, Barroso García G, Moral Dardé V, Doncel-Pérez E. Mass Spectrometry in Pharmacokinetic Studies of a Synthetic Compound for Spinal Cord Injury Treatment. Biomed Res Int. 2015;2015:169234 Citada en PubMed; PMID: 26090386
SPINAL CORD INJURY INDUCES LONG-TERM CHANGES IN THE RAT SPLEEN PROTEOME Angel Arevalo-Martin, Daniel Garcia-Ovejero, Veronica M Darde, Gemma Barroso, Yolanda Sierra-Palomares, Eduardo Molina-Holgado. 3rd International Spinal Cord Repair Meeting,  6-7 noviembre 2015 Barcelona.
Multiple Reaction Monitoring analysis reveals changes in S1P-S1Preceptor axis following spinal cord injury. Ángela del Águila, Verónica M. Darde, Gemma Barroso-García, Ana Gallardo-Escobar, David Reigada, Teresa Muñoz- Galdeano, Rosa Navarro-Ruiz, Marcos Caballero López, Rodrigo M. Maza, Manuel Nieto-Díaz.. 13th Human Proteome Organization World Congress October 5-8, 2014 Madrid, España
Personnel
Barroso García, Gemma. Head of Unit
e-mail: gbarroso@sescam.jccm.es
Gallardo Escobar, Ana. Sample Preparation
e-mail: agallardoe@sescam.jccm.es
González Arandilla, Alba. Senior Mass Spectrometry
e-mail: agarandilla@sescam.jccm.es
Contact us
Proteomics Unit
Edf. Investigación i-1Lab 21
National Paraplegic Hospital
Finca La Peraleda s/n
45071 Toledo
Spain
E-mail: unidadproteomica.hnp@sescam.jccm.es
Tfno: (+34) 925 396 823
Tfno 2: (+34) 638 228 821
Fax: (+34) 925 396 821